Sigh… If I follow you back on Twitter because I think you might add value to my stream, but you pitch your product via DM, I will unfollow.
Congrats to the newly minted and renewed @salesforce MVPs. Your hard work inspires the entire ecosystem.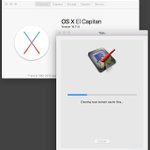 yasuformac So this is happening right now… It's safe to say there'll be a new release for El Capitan in the very near futurepic.twitter.com/tgwR5dTywIwI
yasuformac Holy mackerel! Just opened the old project files for Yasu in Xcode on El Capitan, and the app builds fine… This could be a good thing.
Random useless fact… Used iTunes gift cards (and unused for that matter) fit perfectly into an empty Altoids tin. Coincidence?
If I visit your site, and you force me to view an ad for 20 seconds before reading content, I will close my browser in 2 and never return.