You know what would be totally awesome? If Apple made an iOS app for controlling macOS Server. Could really use it right now.
Love Salesforce engineer humor sometimes. This, from the "My Domain" feature. So very true..#nerdhumoropic.twitter.com/YgciVaLiobob
Ken Tang sharing the ins, outs and pitfalls of submitting apps on the AppExchange with the Orange County #SFDUG. pic.twitter.com/Gx6BdI7HxQ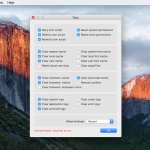 yasuformac Yasu for Mac 3.0.1 and 2.9.3 Released yasuformac.com/2016/09/12/yas… pic.twitter.com/kom1jNWwRH
TRAVBARTON A year from now, you'll wish you had started today.
Yes!!! The Blacklist season 3 is finally on Netflix. Been missing my Friday night fix.