Logged a hair over 40 miles at Dreamforce this week. I'm sure that's nothing compared to others… pic.twitter.com/mCdDfdg0Hv
@icloudsf Yeah. A perfect way to close my week, along with meeting you. Safe travels.
The view from the top is incredible… #SalesforceTower #Dreamforce18 pic.twitter.com/GlSywQbsyI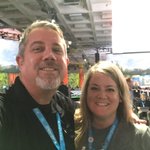 icloudsf Could it be?!? Finally meeting @jimmitchell IN PERSON?!? I forgive you for asking all the hard questions when I taught your ADM 201 Cert class 🤣 So cool to meet such great community members; it's what this is all about! pic.twitter.com/P6cYekas0D
@icloudsf Awesome to have met. Thanks for putting up with those questions. Your dedication drove a large part of my community journey.
Hey @Kwongerific… Great to meet IRL yesterday. Here's that selfie to up your tally against @markross__c pic.twitter.com/R5cEtCFNWp
Bags packed, flight checked in, hotel reservation double confirmed, phone apps rearranged. Yeah, I think I'm ready for #Dreamforce18.
Yes!!! The :lang() CSS pseudo class just saved me by letting me hide page elements based on language selected (temporarily, of course) rather than having to change a bunch of code at the 11th hour on a Friday before starting a week-long vacation. 😅
@icloudsf I will stalk you this time to make sure it happens. You've been warned…
@icloudsf Ooh… great idea. Thanks for reminder. Maybe get to meet IRL this tome around?